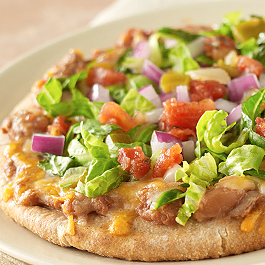 Courtesy of VELVEETA® and RO*TEL®
Servings: 6
Prep Time: 15 Min.
Cook Time: 10 Min.
* 1 can (10 oz. ea.) RO*TEL® Mexican Diced Tomatoes with Lime Juice & Cilantro, drained, divided
* 1 can (16 oz. ea.) ROSARITA® No Fat Traditional Refried Beans
* 6 honey wheat pita pocket breads (6-1/2 in.)
* 3/4 c. shredded Mexican cheese blend
* 4-1/2 c. thinly shredded romaine lettuce
* 6 Tbsp. finely chopped red onion
1. Preheat oven to 450°F. Place 1/4 c. drained RO*TEL® tomatoes in small bowl; set aside. Mix remaining RO*TEL® tomatoes and ROSARITA® beans in small bowl until combined. Spread evenly onto pita breads.
2. Sprinkle pizzas evenly with cheese. Place on ungreased baking sheets; bake 8 to 10 min. or until edges of breads are lightly browned and cheese melts, rotating pans halfway through.
3. Top with lettuce, onion and reserved RO*TEL® tomatoes.
Calories: 459;
Total Fat: 6g;
Saturated Fat: 3g;
Total Carbs: 50g;
Fiber: 9g;
Sugar: 3g;
Protein: 14g;
Sodium: 877mg;