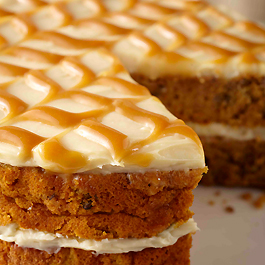 Courtesy of The incredible edible egg™
Servings: 8
Prep Time: 15 Min.
Cook Time: 30 Min.
* 6 egg yolks
* 1 can (15 oz.) pumpkin
* 1-1/2 tsp. vanilla
* 1-1/2 tsp. pumpkin pie spice
* 6 egg whites
* 3/4 tsp. cream of tartar
* 3/4 c. sugar
* 1/2 c. chopped pecans
* 1/2 c. chopped pitted dates
* 3/4 c. buttery cracker crumbs
* 1/2 c. caramel sauce, divided

Cream Cheese Filling:
* 1 pkg. (8 oz.) cream cheese, softened
* 1/2 c. powdered sugar
1. Heat oven to 350°F. Beat egg yolks, pumpkin, vanilla, and pumpkin pie spice in small bowl.
2. Beat egg whites with cream of tartar at high speed until foamy. Beat in sugar 2 Tbsp. at a time until whites are glossy and stand in soft peaks. Fold in egg yolk mixture, pecans, dates and cracker crumbs.
3. Pour into two greased 8-in. round cake pans. Bake in 350°F oven until knife inserted near center comes out clean, 25 to 30 min. Cool on wire rack. Loosen cakes from sides of pans with thin knife. Gently Shake cakes out of pans onto racks.
4. Beat cream cheese, powdered sugar and 2Tbsp. caramel sauce in small bowl until smooth. Place one torte layer on serving plate. Spread with half the cream cheese mixture. Top with second torte layer. Spread with remaining cream cheese mixture. Refrigerate until serving. Just before serving, drizzle remaining caramel sauce over top of cake.

* "For more ways to enjoy The incredible edible egg™, visit incredibleegg.org"
Calories: 453;
Total Fat: 22g;
Saturated Fat: 9g;
Cholesterol: 175mg;
Total Carbs: 58g;
Fiber: 3g;
Protein: 9g;
Sodium: 369mg;