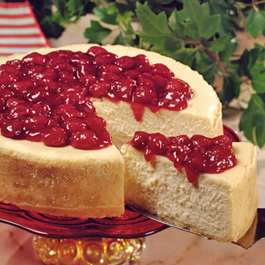 Courtesy of The incredible edible egg™
Servings: 12
Prep Time: 25 Min.
Cook Time: 90 Min.
Chill Time: 8 Hrs.
* 5 pkgs. (8 oz. each) cream cheese, room temperature
* 1-3/4 c. sugar
* 3 Tbsp. flour
* 2 tsp. freshly grated lemon peel
* 2 tsp. vanilla
* 5 eggs, room temperature
* 2 egg yolks, room temperature
* 1/4 c. whipping cream

Crumb Crust:
* 2 c. vanilla wafer crumbs (56 to 60 wafers)
* 2 egg whites, lightly beaten
1. Heat oven to 300°F. Crumb Crust: Mix vanilla wafer crumbs and egg whites in medium bowl until evenly moistened. Press evenly and firmly against bottom and 1-1/2 to 2-1/2 in. up sides of greased 9-in. springform pan. Refrigerate
2. Combine cream cheese, sugar, flour, lemon peel and vanilla in mixer bowl. Beat on low speed until blended. Beat on high speed until fluffy. Add 5 eggs and 2 egg yolks, 1 at a time, beating well after each addition. Add cream; beat until blended. Pour into chilled crust.
3. Bake in center of 300°F oven until wooden pick inserted midway between center and edge of cake comes out clean, about 1-1/2 hrs. Center will still be soft, but will firm up as cheesecake cools.
4. Remove from oven; carefully loosen edge of cake from pan with metal spatula or thin knife. Cool completely in pan on wire rack. Refrigerate, loosely covered, until firm, at least 8 hrs. or overnight.

ENJOY
* Remove side of springform pan before serving. Top with fresh raspberries and kiwi slices or with prepared fruit pie filling, such as cherry or blueberry.
* Crust can be made with graham cracker crumbs.
* When is it done- Like other baked custards, cheesecake should be removed from the oven before the center is completely set. The center will jiggle slightly when pan is gently shaken. Cheesecake will continue to "cook" after it's removed and center will firm up as it cools. Overbake cheesecake will crack.
* Carefully loosen the side when cake first comes out of oven. The cake will shrink away from the pan as it cools. Cracks are less likely to form if cake is not stuck to side of pan.
* For easier slicing, use a thin-bladed knife. Wipe knife with clean damp towel, or rinse knife under warm water, after each cut.
* Refrigerate any leftover cheesecake promptly.

"For more ways to enjoy The incredible edible egg™, visit incredibleegg.org"
Calories: 570;
Total Fat: 40g;
Saturated Fat: 23g;
Cholesterol: 241mg;
Total Carbs: 44g;
Fiber: 0g;
Protein: 12g;
Sodium: 363mg;