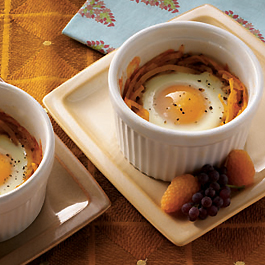 Courtesy of The incredible edible egg™
Servings: 4
Prep Time: 5 Min.
Cook Time: 20 Min.
* 2 c. shredded refrigerated or defrosted frozen hash brown potatoes
* 1 c. cheddar cheese, shredded (4 oz.)
* 1/2 tsp. Mexican or taco seasoning
* 4 eggs
* salt and pepper
1. Heat oven to 375°F. Combine potatoes and cheese in medium bowl. Sprinkle with seasoning; toss to mix.
2. Divide mixture evenly among four greased 1-cup ramekins or custard cups; press against bottoms and halfway up sides. Place on baking sheet.
3. Bake in 375°F oven 10 min. Break and slip an egg into each potato nest. Bake until whites are completely set and yolks begin to thicken but are not hard, 10 to 15 min. longer. Sprinkle with salt and pepper.

Lighter Option -Recipe can be made with reduced-fat cheese, if desired.

"For more ways to enjoy The incredible edible egg™, visit incredibleegg.org"
Calories: 220;
Total Fat: 15g;
Saturated Fat: 8g;
Cholesterol: 241mg;
Total Carbs: 8g;
Fiber: 1g;
Protein: 14g;
Sodium: 280mg;