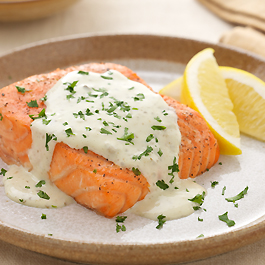 Courtesy of PHILADELPHIA® Cream Cheese
Servings: 4
Prep Time: 10 Min.
Cook Time: 10 Min.
This velvety and versatile sauce is also delicious served with chicken or other varieties of fish. For even more flavor, additional pesto could be brushed over the salmon before grilling.

* 4 salmon fillets (1 lb.)
* 2 Tbsp. olive oil
* 4 oz. (1/2 of 8-oz. pkg.) PHILADELPHIA Cream Cheese, cubed
* 1/4 c. milk
* 2 Tbsp. pesto
* 1 Tbsp. finely chopped fresh parsley
1. HEAT grill to medium heat.
2. BRUSH both sides of fish with oil; sprinkle with salt and pepper. Grill, skin-sides down, 10 min. or until fish flakes easily with fork.
3. MEANWHILE, cook cream cheese and milk in saucepan on medium heat 2-3 min. or until cream cheese is completely melted and sauce is well blended, stirring constantly. Stir in pesto.
4. SERVE fish topped with sauce and parsley.

KRAFT KITCHEN TIPS
Special Extra: For added flavor, brush salmon with additional pesto instead of oil.