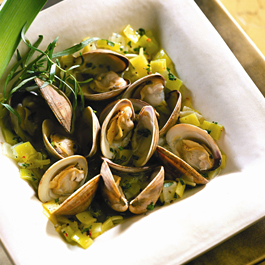 Courtesy of Virginia Marine Products Board
Servings: 4
Prep Time: 5 Min.
Cook Time: 8 MIn.
* 3 Tbsp. butter
* 2 c. (8 oz.) chopped leeks (white part only)
* 40 small Virginia clams, rinsed and scrubbed under cold water (approx. 4 lbs.)
* 1 c. dry white wine
* 1/4 c. chopped fresh tarragon (1 1/2 Tbsp. dried)
* freshly ground black pepper to taste
1. Heat 1 Tbsp. butter in a large high-sided sauté pan over medium heat. Add leeks and cook for 3-4 min. until soft.
2. Stir in clams and wine, cover and simmer for 4 min. or until clams have opened. Stir in remaining butter, sprinkle with tarragon, season with pepper and serve immediately.
Calories: 202;
Total Fat: 10g;
Cholesterol: 64mg;
Total Carbs: 11g;
Protein: 17g;
Sodium: 79mg;