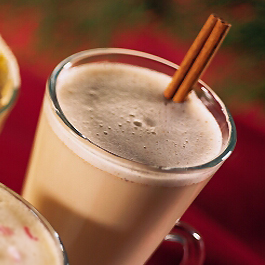 Courtesy of Wisconsin Milk Marketing Board
Servings: 12
Prep Time: 20 MIn.
Cook Time: n/a
* 1 c. butter, softened
* 1 c. brown sugar
* 1 c. granulated sugar
* 1 tsp. ground nutmeg
* 1 tsp. ground cinnamon
* 2 c. French vanilla ice cream, softened
* 1 1/2c. (12 oz.) rum
* 6 c. boiling water
1. In a mixing bowl, cream butter, both sugars and spices until light and fluffy.
2. Beat in the ice cream. Transfer to a container, cover and freeze.
3. To serve: Spoon 1/3 c. frozen ice cream mixture into a mug.
Add 1 oz. (1/8 c.) rum and 1/2 c. boiling water. Stir well and serve.

Creative twist: Try substituting hot coffee for the water or substitute different flavored ice cream such as chocolate.