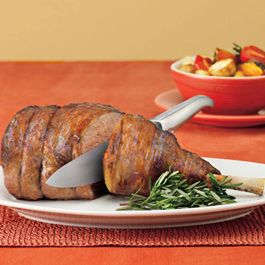 Courtesy of Meat and Livestock Australia
Servings: 4
Prep Time: 10 Min.
Cook Time: 90 Min.
* 3 lb. Boneless Australian Lamb leg
* 2 tsp. olive oil
* 1 Tbsp. balsamic vinegar
* 2 Tbsp. brown sugar
1. Preheat the oven to 350ºF. Place Lamb in a baking dish. Combine the oil, vinegar and sugar, and brush over the lamb.
2. Cover with foil and roast for 1 1/2 hr. Remove the foil in the last 20 min. and baste with pan juices.
3. Remove lamb from oven when cooked, loosely cover in foil and rest for at least 10 min. Serve with roasted sweet potatoes.

* A classic lamb roast with a sweet balsamic taste.