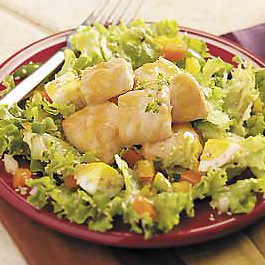 Courtesy of Taste of Home
Servings: 2
Prep Time: 20 Min.
Cook Time: 20 Min.
* 1/2 lb. chicken tenderloins, cut into 1-1/2-inch pieces
* 2 Tbsp. honey, divided
* 2 Tbsp. Dijon mustard, divided
* 3 c. torn leaf lettuce
* 2 hard-cooked eggs, chopped
* 2 Tbsp. each chopped green, sweet orange and yellow pepper
* 1 Tbsp. chopped onion
* 2 tsp. sesame seeds


1. Place chicken in a 1-1/2-qt. baking dish coated with cooking spray.
2. Combine 1 Tbsp. each of honey and mustard; pour over chicken. Cover and bake at 350° for 20-25 min. or until juices run clear.
3. Place rinsed lettuce in a salad spinner; spin until dry. Combine the lettuce, eggs, peppers, onion and sesame seeds; divide between two plates.
4. Top with chicken. Combine remaining honey and mustard; drizzle over chicken.

Diabetic Exchanges: 4 very lean meat, 2 vegetable, 1 fruit, 1 fat.
Chardonnay, Gewürztraminer, Pinot Grigio-Chardonnay
Calories: 301;
Total Fat: 9g;
Saturated Fat: 2g;
Cholesterol: 279mg;
Total Carbs: 25g;
Fiber: 2g;
Protein: 35g;
Sodium: 498mg;