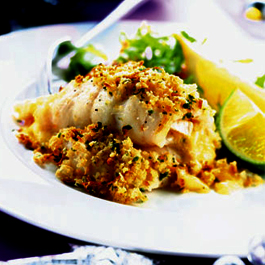 Courtesy of UK Seafish Authority
Serve With:
Serve with a side salad.
Servings:
4
Prep Time:
5 Min.
Cook Time:
25 Min.
* 4 - 6 oz. whiting fillets
* 1 Tbsp. butter, melted
* pepper, to taste
* 2 oz. Brie, slightly softened and sliced
* 2 oz. fresh breadcrumbs made from Ciabatta bread or similar
* 3 Tbsp. parsley, chopped
* zest of 1 lemon
* 2 Tbsp. olive oil
1. Preheat oven to 400°F.
2. Place fillets on a board, skinned side uppermost and brush with the melted butter. Season with pepper.
3. Place 1 Tbsp. cheese on top of each fillet. Roll up and place into a greased ovenproof dish. Brush with any remaining butter.
4. Prepare the topping: in a small bowl, mix breadcrumbs, parsley, lemon zest and olive oil together. Spoon over the fillets. Bake 20-25 min.
5. Serve with a side salad.


Courtesy of Seafish, the UK Sea Fish Industry Authority www.seafish.org

"From sea to plate, Seafish delivers expert knowledge, skills and support which help the UK seafood industry secure a sustainable and profitable future."
Sauvignon Blanc, Chardonnay, Pinot Grigio-Pinot Bianco