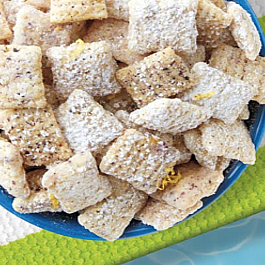 Courtesy of Chex™
Servings: n/a
Prep Time: n/a
Cook Time: n/a
* 9 C. Blueberry Chex™ cereal
* 1 1/4 c. white vanilla baking chips
* 1/4 c. butter or margarine
* 4 tsp. grated lemon peel
* 2 Tbsp. fresh lemon juice
* 2 c. powdered sugar
1. Into large bowl, measure cereal; set aside.
2. In 1 quart microwavable bowl, microwave chips, butter, lemon peel and juice uncovered on High 1 minute; stir. Microwave about 30 seconds longer or until mixture can be stirred smooth.
3. Pour mixture over cereal; stirring until evenly coated. Pour into 2-gallon resealable food-storage plastic bag.
4. Add powdered sugar. Seal bag; gently shake until well coated.
5. Spread on waxed paper or foil to cool. Store in airtight container.