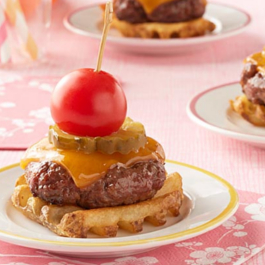 Courtesy of Kraft Kitchens
Servings: 12
Prep Time: 15 Min.
Cook Time: 35 Min.
* 3/4 lb. extra-lean ground beef
* 1/4 c. KRAFT Original Barbecue Sauce
* 3 cloves garlic, minced
* 12 ORE-IDA Waffle Fries
* 3 KRAFT Big Slice Mild Cheddar Cheese Slices, each cut into 4 squares
* 12 dill pickle slices
* 12 cherry tomatoes
1. Heat oven to 425°F.
2. Cover rimmed baking sheet with 2 sheets of foil, overlapping edges in center and folding together to form 1-inch-high rim.
3. Mix meat, barbecue sauce and garlic just until blended; shape into 12 (2-inch-round) patties. Place waffle fries in single layer on half the prepared baking sheet. Bake as directed on package, adding patties to other side of baking sheet for the last 10 to 13 min. of the fries baking time and cooking burgers until done (160°F).
4. Top fries with burgers and cheese; bake 1 min. or until cheese is melted.
5. Place cheeseburgers on platter; top with pickles and tomatoes. Secure with decorative skewers or picks.