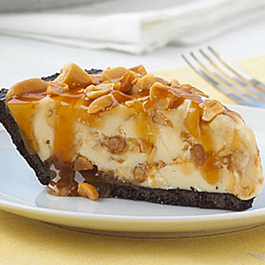 Courtesy of Kraft Kitchens
Servings: 10
Prep Time: 15 Min.
Cook Time: n/a
Chill Time: 4 Hr.
* 3/4 c. caramel ice cream topping, divided
* 3/4 c. PLANTERS COCKTAIL Peanuts, chopped, divided
* 4 c. vanilla ice cream, softened
* 1 ready-to-use chocolate flavor crumb crust (6 oz.)
1. Add 1/2 cup each of the caramel topping and nuts to ice cream in bowl; swirl with spoon until marbleized. Spoon into crust.
2. Freeze 4 hours or until firm.
3. Drizzle pie with remaining caramel topping just before serving; sprinkle with remaining nuts.