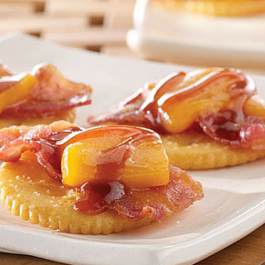 Courtesy of Kraft Kitchens
Servings: 8
Prep Time: 15 Min.
Cook Time: 1 Min.
* 4 oz. KRAFT Cheddar Cheese, cut into 12 slices
* 8 slices OSCAR MAYER Bacon, cooked, drained
* 24 RITZ Crackers
* 4 tsp. KRAFT Original Barbecue Sauce
1. Cut cheese slices in half. Cut bacon slices in thirds. Top crackers with cheese and bacon; place 6 on microwaveable plate.
2. Microwave on HIGH 10 to 15 sec. or until cheese begins to melt. Repeat with remaining topped crackers.
3. Drizzle with barbecue sauce. Serve warm.