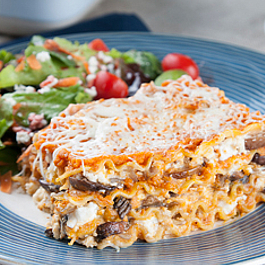 Courtesy of Wheat Foods Council
Servings: 6
Prep Time: 15 Min.
Cook Time: 55 Min.
* 2 tsp. olive oil
* 1 medium onion chopped (about 1 c.)
* 1 lb. sliced fresh mushrooms
* 1/2 tsp. salt, divided
* 1 1/2 c. canned solid-pack pumpkin
* 1/2 c. half and half
* 2 tsp. fresh sage leaves, chopped or 1 tsp. dry
* dash pepper
* 9 oven ready (no boiling required) lasagna noodles
* 1 c. reduced fat ricotta cheese
* 1 c. (4-oz.) shredded part-skim mozzarella cheese
* 3/4 c. grated Parmesan cheese
1. Preheat oven to 375°F.
2. In small skillet heat oil, add onion and sauté until tender, add mushrooms and 1/4 tsp. salt. Heat about 2 minutes until mushrooms are heated through. Set aside.
3. In a small bowl, combine pumpkin, half and half, sage, pepper, and remaining 1/4 tsp. salt.
4. Spread 1/2 c. pumpkin sauce in an 11 X 7-in. baking dish lightly coated with cooking spray.
5. Top with 3 noodles (noodles will overlap slightly). Spread 1/2 c. pumpkin sauce to edges of noodles. Top with half of mushroom mixture, 1/2 c. ricotta cheese, 1/2 c. mozzarella and 1/4 c. Parmesan cheese. Repeat layers. Top with remaining noodles and pumpkin sauce.
6. Cover and bake in preheated oven for 45 minutes. Uncover; sprinkle with remaining Parmesan cheese. Bake 10-15 minutes longer or until cheese is melted. Let stand for 10 minutes before cutting.
Calories: 313;
Total Fat: 14g;
Saturated Fat: 6g;
Cholesterol: 33mg;
Total Carbs: 31g;
Fiber: 5g;
Protein: 20g;
Sodium: 563mg;