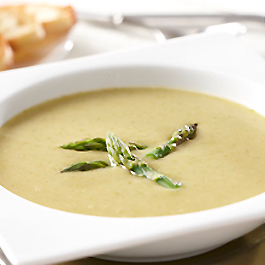 Courtesy of The Soyfoods Council
Servings: 6
Prep Time: 15 Min.
Cook Time: 50 Min.
* 2 lb. asparagus, tips reserved
* 4 Tbsp. vegetable oil
* 1 medium diced onion
* 1/2 c. diced leek
* 1/2 c. diced celery
* 5 Tbsp. flour
* 4 c. vegetable stock
* 1 c. soymilk
* salt, pepper, nutmeg, cayenne pepper to taste
1. In a pot of boiling salted water, blanch the asparagus tips until tender - no more than 1-2 min. - and shock in ice water. Reserve tips to garnish the soup.
2. In a large saucepot add oil, heat. Add onion, leek and celery, stir over medium heat until translucent. Add the flour, stirring constantly, to incorporate. Slowly whisk in the vegetable stock, whisking thoroughly until smooth. Once all of the vegetable stock is incorporated, add the asparagus stalks. Simmer for 30-40 min.
3. In a blender, add soup in small batches, purée. Using a fine strainer, strain soup to remove any vegetable pulp. Return the soup to the saucepot, bring to boil, then simmer.
4. Add soymilk, stir. Add salt, pepper, nutmeg and cayenne pepper to taste. Divide equally into soup bowls. Garnish with reserved asparagus tips. Serve immediately.