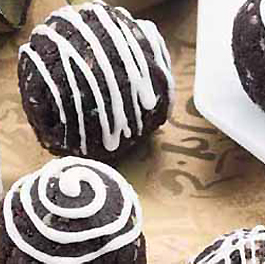 Courtesy of California Raisin Marketing Board
Servings: 42
Prep Time: 40 Min.
Cook Time: n/a
* 9-oz. pkg. chocolate wafer cookies, finely crushed
* 1/2 c. finely chopped walnuts
* 3/4 c. California raisins
* 1-1/2 c. powdered sugar
* 1/3 c. cherry liqueur
* 3 Tbsp. light corn syrup
* 3/4 c. white vanilla chips
* 4 tsp. oil
1. In large bowl, combine chocolate crumbs, walnuts, raisins and powdered sugar; mix well. Add liqueur and syrup; mix well to make a stiff mixture. Form into 1-in. balls. Place on waxed paper. Let stand 1 hr. to set.
2. Combine vanilla chips and oil in small microwave-safe bowl. Microwave on High 30 to 45 sec. or until melted, stirring once during cooking. Dip tops of balls in melted chips, or drizzle over balls. Store in air-tight container for several hours to allow flavor to develop.

Visit www.loveyourraisins.com/recipes/ for more raisin recipes!
Calories: 70;
Total Fat: 3g;
Saturated Fat: 1g;
Cholesterol: 0mg;
Total Carbs: 11g;
Fiber: 0g;
Protein: 1g;
Sodium: 50mg;