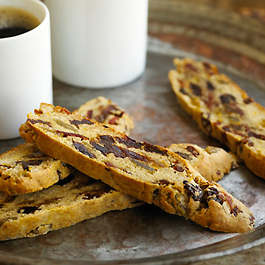 Courtesy of California Raisin Marketing Board
Servings: 36
Prep Time: 25 Min.
Cook Time: 25 Min.
Chill Time: 1 Hr.
Marinate: 20 Min.
* 1/2 c. dried cherries, chopped
* 1/2 c. California natural raisins, chopped
* 1/2 c. California golden raisins, chopped
* 1/4 c. brandy, cognac, rum or orange juice
* 1 1/2 c. basic gluten free baking mix
* 3/4 c. sugar
* 1/4 c. sweet rice flour
* 1/4 c. almond flour
* 2 tsp. grated lemon or orange zest
* 1 tsp. baking soda
* 1 tsp. gluten free baking powder
* 3/4 tsp. ground nutmeg or cinnamon
* 1/2 tsp. xanthan gum
* 1/8 tsp. salt
* 2 egg whites
* 1 whole egg
* 1 egg white, for glazing
1. Measure cherries, raisins and brandy into a bowl. Cover and let stand for 15-20 mins. Mix baking mix, sugar, rice flour, almond flour, zest, soda, baking powder, nutmeg, xanthan gum and salt together.
2. In small bowl, whisk 2 egg whites and whole egg until frothy. Stir into dry ingredients along with undrained fruits; mix well. Cover and refrigerate for 1 hr. or overnight.
3. Preheat oven to 350°F. Lightly grease or line cookie sheet with parchment paper. Turn dough onto counter dusted with rice flour. Flour hands generously and divide dough into 3 equal pieces. Shape each piece into a log about 12-in. long. Place logs as far apart as possible on prepared cookie sheet. Flatten slightly to 1/2-in. thick and 2-in. wide. Lightly beat remaining egg white and brush onto logs.
4. Bake for 20 min. at 350°F or until golden. Let cool for 5-10 min. Reduce oven temperature to 300°F. Cut logs on slight diagonal into slices about 1-in. thick. Stand slices upright on cookie sheet. Return to oven and dry for 25 min. Cool.

* Visit www.loveyourraisins.com/recipes/ for more raisin recipes!
Calories: 60;
Total Fat: 0g;
Saturated Fat: 0g;
Cholesterol: 5mg;
Total Carbs: 14g;
Fiber: 1g;
Sugar: 8g;
Protein: 1g;
Sodium: 105mg;
Potassium: 94mg;