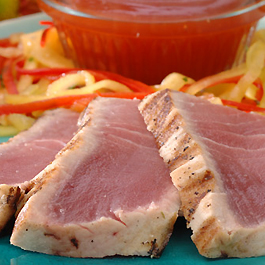 Courtesy of Florida Agriculture Bureau of Seafood & Aquaculture
Servings: 4
Prep Time: 10 Min.
Cook Time: 4-16 Min.
Marinate: 10 Min.
* 1/2 c. dry sherry
* 2 Tbsp. ginger root, grated
* 2 Tbsp. soy sauce
* 1 Tbsp. molasses
* 1 Tbsp. lime juice
* 1 Tbsp. honey
* 1 Tbsp. garlic, minced
* 2 tsp. dark sesame oil
* 2 tsp. cilantro, minced
* 4 (6-oz. ea.) yellowfin tuna steaks
1. Combine sherry, ginger, soy sauce, molasses, lime juice, honey, garlic, sesame oil, and cilantro in a small bowl. Set aside.
2. Rinse tuna steaks and pat dry. Place steaks in a shallow glass baking dish and pour sauce over. Marinate in refrigerator for 10 min.
3. Preheat stove top grill or gas grill. Remove steaks from marinade; grill 5-8 min. on each side for well-done center (2 min. on each side for rare center and 3-5 min. each side for medium center), turning once and basting with marinade.

* Recipe Courtesy of Florida Department of Agriculture Bureau of Seafood and Aquaculture.
Calories: 289;
Calories From Fat: 38;
Total Fat: 4g;
Saturated Fat: 1g;
Cholesterol: 77mg;
Total Carbs: 15g;
Protein: 41g;