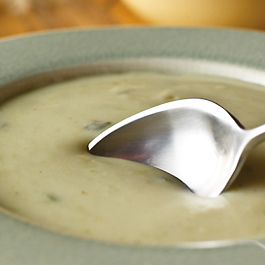 Courtesy of Campbell's® Kitchen
Servings: 5
Prep Time: 15 Min.
Cook Time: 25 Min.
* 2 Tbsp. butter
* 4 medium green onions, sliced (about 1/2 c.)
* 1 stalk celery, sliced (about 1/2 c.)
* 1-3/4 c. Swanson® Chicken Broth (Regular, Natural Goodness® or Certified Organic)
* 1/8 tsp. ground black pepper
* 3 medium potatoes, sliced 1/4-in. thick (about 3 c.)
* 1-1/2 c. milk

1. Heat the butter in a 3-qt. saucepan over medium heat. Add the onions and celery and cook until they're tender.
2. Stir the broth, black pepper and potatoes in the saucepan and heat to a boil. Reduce the heat to low. Cover and cook for 15 min. or until the potatoes are tender.
3. Place half of the broth mixture and half of the milk in a blender or food processor. Cover and blend until smooth. Repeat with the remaining broth mixture and remaining milk. Return to the saucepan and heat through.
Calories: 184;
Total Fat: 6g;
Saturated Fat: 4g;
Cholesterol: 20mg;
Total Carbs: 27g;
Fiber: 3g;
Protein: 6g;
Sodium: 384mg;