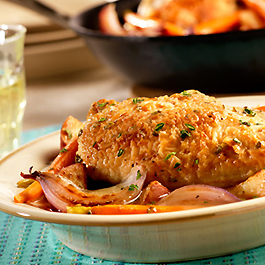 Courtesy of Campbell's® Kitchen
Servings: 4
Prep Time: 20 Min.
Cook Time: 35 Min.
* 2 Tbsp. all-purpose flour
* 1/8 tsp. ground black pepper
* 1/8 tsp. paprika
* 4 bone-in chicken breasts halves (about 2-lb.)
* 2 Tbsp. olive oil
* 2 small red onions, cut in quarters
* 1 lb. new potatoes, cut in quarters
* 8 oz. fresh whole baby carrots (about 16), green tops trimmed to 1-in. long
* 1-1/2 c. Swanson® Regular Chicken Broth or Swanson® Chicken Stock
* 3 Tbsp. lemon juice
* 1 Tbsp. chopped fresh oregano leaves
* chopped fresh thyme leaves
1. Heat the oven to 350°F. Stir the flour, black pepper and paprika on a plate. Coat the chicken with the flour mixture.
2. Heat the oil in a 12-in. oven-safe skillet over medium-high heat. Add the chicken and cook for 10 min. or until well browned on all sides. Remove the chicken from the skillet. Pour off any fat.
3. Add the onions and potatoes to the skillet and cook for 5 min., stirring occasionally. Add the carrots, broth, lemon juice and oregano and heat to a boil. Return the chicken to the skillet. Cover the skillet.
4. Bake for 20 min. Uncover the skillet.
5. Bake, uncovered, for 15 min. or until the chicken is cooked through and the vegetables are tender. Sprinkle with the thyme, if desired.
Calories: 406;
Total Fat: 15g;
Saturated Fat: 3g;
Cholesterol: 82mg;
Total Carbs: 34g;
Fiber: 5g;
Protein: 35g;
Sodium: 311mg;